At the beginning of March, I set out the books I planned to read this month and did pretty well!
To Fetch A Felon was high up on my list, not only because it counted for the Native UK Pet Breed square on Book Bingo but also because it looked adorable and a friend did an absolutely adorable review that made me eager to dive in. Totally loved it, such a great book and I'm looking forward to reading the other books in the series.
The other books I plan to read in April include a couple of NetGalley ARCs, plus some series catch ups, and a few recommendeations I got from Storygraph:
The Murder of a Seer by Suzy O'Clare is ;my pick for the Paranormal Britain square on Book Bingo and was written by a friend in the Cozy Mystery Discord server. I read the prequel and loved it, can't wait to get into this one. Bella is a reluctant psychic and an even more reluctant detective, when a ghost appears to Bella and asks her to investigate his death.
April also brings the second series for Cozy Mystery Book Club, the Flower House series. Set in Tennessee, it follows Sierra Ravenswood as she returns to her small hometown after failing to make it as a singer in Nashville. Taking a job at a flower shop, she's stunned when the owner takes off, leaving Sierra in charge of the shop just in time to lead a flower arranging class where one of the students drops dead. I hate when that happens.
Also have one more book to get caught up on the Magical Cats series before the latest book is published in June. I love this series, great plots, great characters and I want an Owen and Hercules of my own. In fact, I would jump into this book and lure him away with Barry Manilow songs and fish crackers. I love you Hercules!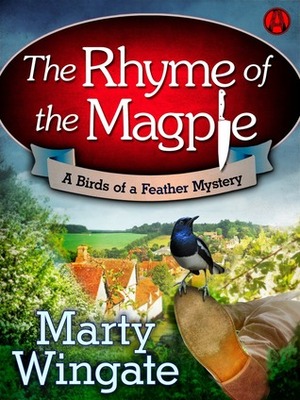 I've read Marty Wingate's other series, the Potting Shed series, so I was interested in starting this series, Birds of a Feather because I have #3 selected for the Pun In The Title square. In The Rhyme of the Magpie, Julia quits her job on her father's nature show to become a tour guide in the countryside. When her father goes missing, Julia begins to investigate.
Kernel of Truth by Kristi Abbot
Opening a gourmet popcorn shop was never on Rebecca Anderson's bucket list. But after a failed marriage to a celebrity chef, she's ready for her life to open up and expand. She has returned to her hometown of Grand Lake, Ohio, with her popcorn-loving poodle Sprocket to start a new business—naturally called POPS. A POPCORN LOVING POODLE! Can't wait to get into this one!
Death Al Dente by Leslie Budewitz
I read #5 in the series a few months ago and liked it so much, I'm dying to go back and read the whole series! (heh heh, little cozy mystery joke there) Set in Montana, it features The Merc, the general store owned by Erin's family for generations and is now a gourmet local foods and crafts market. Sign me up, I want to move there.
Danger on the Atlantic by Erica Ruth Neubauer
I read the first 2 books in this historical cozy mystery series when they came out last year and fell in love!