Of Spice and Men
Pancake House Mystery #3
by Sarah Fox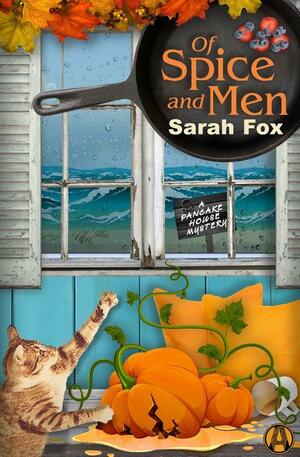 I'm trying to get caught up on this series but this one couldn't hold my attention. I took me a few weeks (errrp, months?) to get through it as I kept finding books I was more excited about, but kept nibbling away at this one.
And I chalk it up to my own lack of attention span because this wasn't a bad book by any means. I love the series (I want Ivan to be my BFF and make me waffles every day. I can dream, right? I believe fictional waffles don't have any carbs or calories, so I can eat them all day long.) and it was a great plot; a movie is being filmed in town and one of the crew members is murdered and Marley sleuths her way to find a killer. Lots to like about it, like the head prank and who did it (and why) and the myriad of suspects, all of which were tied to the movie. A cracking great plot. the only thing I was less than thrilled with was the TSTL moment that set up the final show down because it felt too convenient. Other than that, it was a great book and I'm looking forward to the next.
Published November 7th 2017 by Alibi