Fatal Brushstroke
(Aurora Anderson #1)
by Sybil Johnson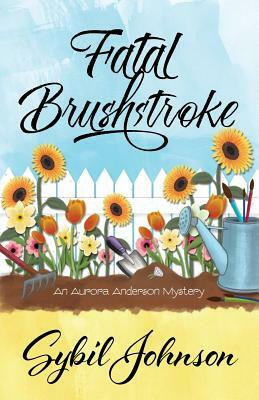 Fatal Brushstroke was our Book Club pick for January and I was really looking forward to it! I read #4 last October and was looking forward into starting the series from the beginning and I wasn't disappointed! Right from the start it grabbed me, it was so easy to picture the scene; a yappy dog, finding the hand buried in the flower bed and Rory cleaning the kitchen while the police are outside investigating. Hilarious and so relatable, who hasn't pretended to clean while watching activity outside? No one, we've all done it. Too funny!
There was a lot going on in this one; the murder of Hester, an artist and painting instructor that Rory knew from her mother's craft store, recurring alarm problems, plus having to deal with an effort around the town to paint Rory as a murderer. And while I enjoyed it, at some points it was a bit unfocused and meandered around, like Rory and Liz were just going around in circles. Which actually is kind of realistic to have a lull in the investigation but it also got a bit tedious and I flipped through pages in a few places. But in the end, when the killer was finally revealed, the exciting conclusion capped the book off and I loved how Rory's past tied in to all of it.
A great start to this series and it only gets better. Can't wait to read book 2 next month!
Published November 18th 2014 by Henery Press